From May 2019 to March 2020 I worked as the point-person for Umbra's Window category,and designed for Umbra Ltd, as well as in-house brands of many large mass retail stores throughout USA, Canada and Europe. In this role I designed many, many finials. Window is Umbra's largest category by far (40% of the company's profits and 3-4 times the size of any other category), and

Umbra's oldest category - Umbra means 'shade' in Latin and a window shade was the company's first product. 
Here are designs that went to market under the Umbra brand label.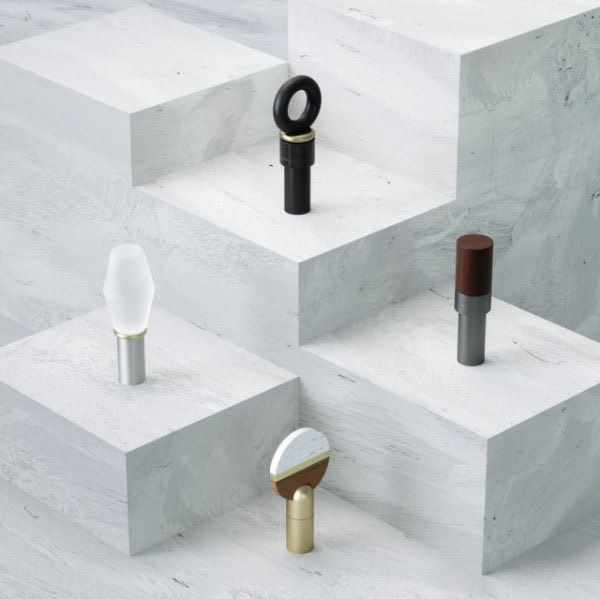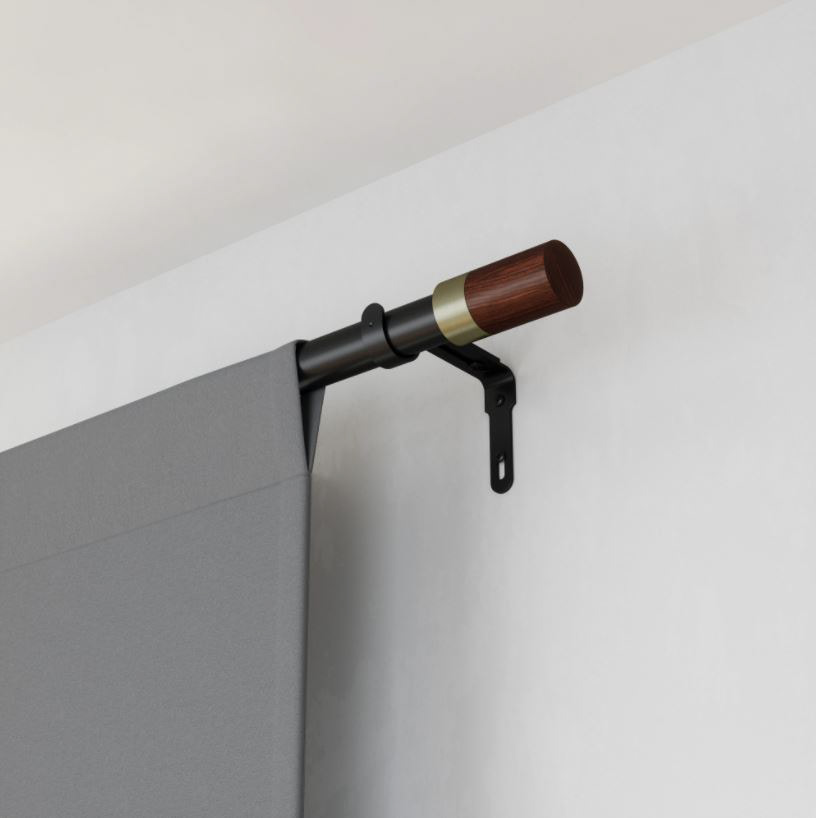 Blok, Plated Pewter and Walnut - Umbra JAN 2020
INSPIRATION IMAGE: Pepper grinder


A modern curtain rod with a sophisticated touch Blok is a 1" diameter adjustable curtain rod with a gun metal finish and wooden cylindrical finials Available in two sizes 36-72 inches and 72-144 inches Blok can fit a variety of window sizes Made of steel supporting a maximum weight of 22 lbs this curtain rod is durable and long-lasting. Installation is super simple Rod comes with brackets metal screws plastic screw anchors and assembly instructions

MODERN DESIGN
With wooden cylindrical finials and a gun metal finish this sophisticated curtain rod adds a modern and warm touch to your living space
FITS A RANGE OF WINDOWS
An extendable curtain rod to fit a variety of windows Blok comes in two sizes 36-72 inches and 72-144 inches diameter is 1 inch
EASY INSTALL
Your Blok Curtain Rod comes complete with all the hardware you need to get set up quickly and easily including brackets metal screws drywall anchors and easy to follow step-by-step installation instructions
DURABLE
Made of steel Blok is a long-lasting curtain rod supporting a max weight of 22 lbs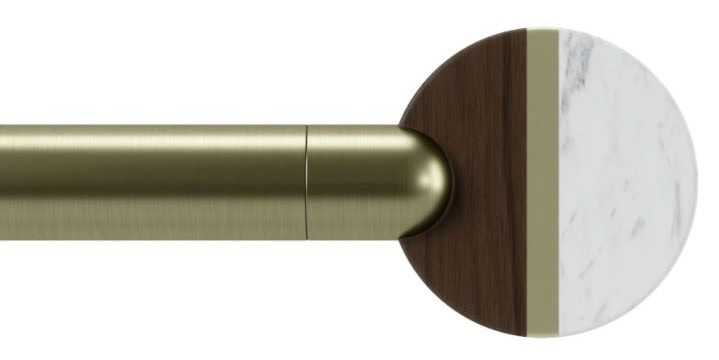 Mixing contemporary materials of wood and marble, Lolly is a 1" (2.5 cm) diameter adjustable curtain rod with a brass finish and flat disk-shaped finials. Available in two sizes; 36-72 inches (91 - 183 cm) and 72-144 inches (183 - 366 cm), Lolly can fit a variety of window sizes. Made of steel, supporting a maximum weight of 22 lbs (10 kg), this curtain rod is durable and long-lasting. Installation is super simple. Rod comes with brackets, metal screws, plastic screw anchors and assembly instructions.

MODERN DESIGN
With a mix of wooden and marble finials, this sophisticated curtain rod adds a modern and warm touch to your living space

FITS A RANGE OF WINDOWS
An extendable curtain rod to fit a variety of windows, Lolly comes in two sizes; 36-72 inches (91 - 183 cm) and 72-144 inches (183 - 365.7 cm); diameter is 1 inch (2.5 cm)

EASY INSTALL
Your Lolly Curtain Rod comes complete with all the hardware you need to get set up quickly and easily including brackets, metal screws, drywall anchors and easy to follow step-by-step installation instructions

DURABLE
Made of steel, Lolly is a long-lasting curtain rod, supporting a max weight of 22 lbs (10 kg)
Leona Finial, Plated Brass and Clear Acrylic, Plated Nickel and Clear Acrylic - Umbra JAN 2020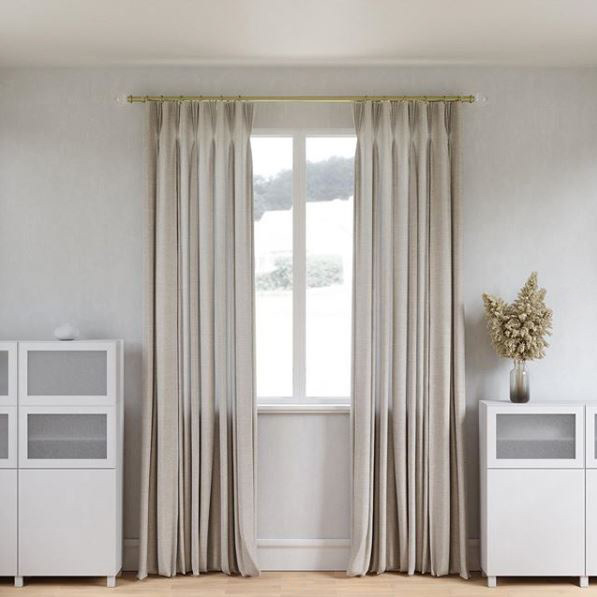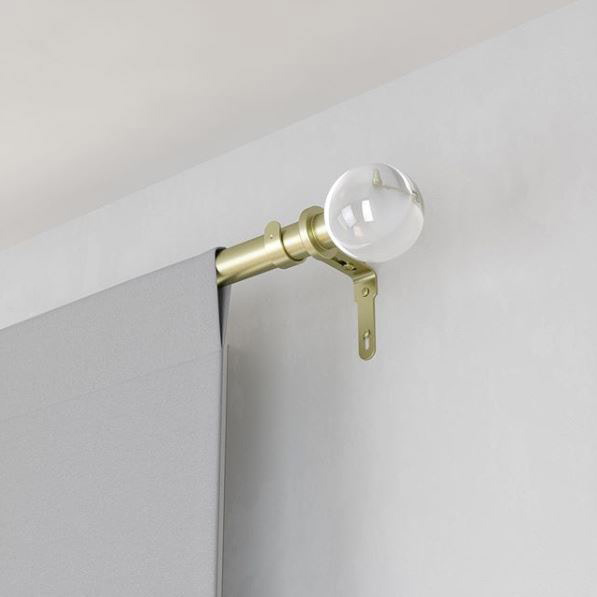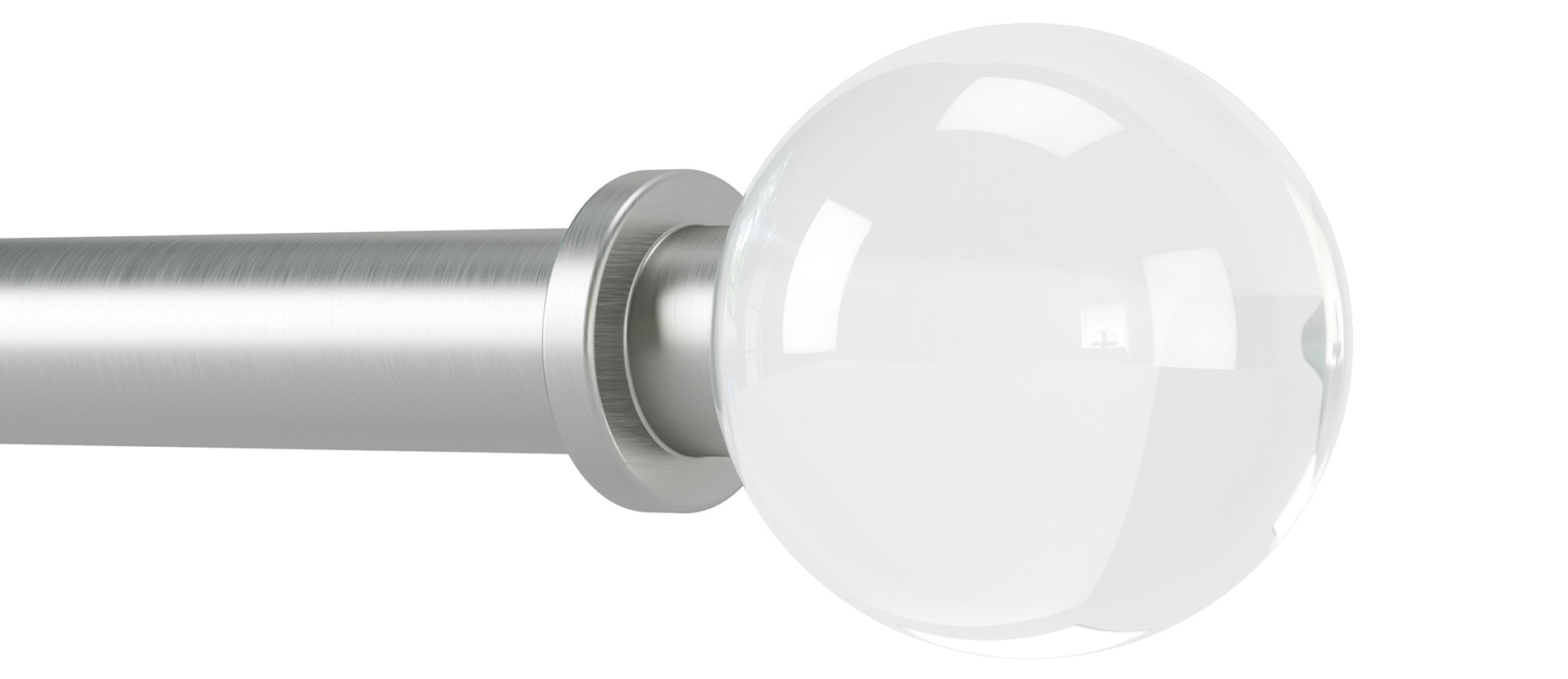 Leona puts a modern twist on traditional ball-shaped finial. With your choice of a brass or nickel finished rod and clear, acrylic finials, Leona is simplistic in form but adds a unique touch to your drapery. Available in two sizes; 36-72 inches and 72-144 inches, Leona is telescoping and can fit a variety of window sizes. Made of steel, supporting a maximum weight of 22 lbs, this curtain rod is durable and long-lasting. Installation is super simple. Rod comes with brackets, metal screws, plastic screw anchors and assembly instructions. The diameter is 1-inch (2. 5 cm).

MODERN & UNIQUE DESIGN
Leona adjustable curtain rod features clear knob-shaped finials that provide a modern update to your space with your choice of a brass or nickel finished rod
FITS A RANGE OF WINDOWS

An extendable curtain rod to fit a variety of windows, Leona comes in two sizes; 36-72 inches and 72-144 inches; diameter is 1 inch
EASY INSTALL
Your Leona Curtain Rod comes complete with all the hardware you need to get set up quickly and easily including brackets, metal screws, drywall anchors and easy to follow step-by-step installation instructions
DURABLE
Made of steel, Leona is a long-lasting curtain rod, supporting a max weight of 22 lbs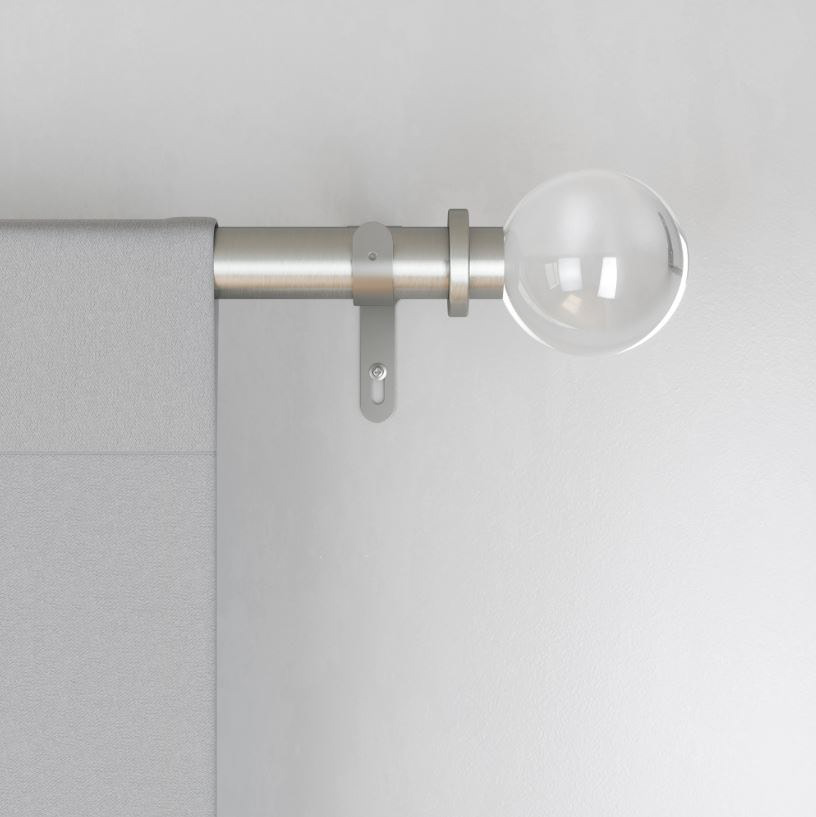 Circo is a 1" (2.5 cm) diameter adjustable curtain rod with a black finish and circular ring-shaped finials and a marble accent. Available in two sizes; 36-72 inches (91 - 183 cm) and 72-144 inches (183 - 366 cm), Circo can fit a variety of window sizes. Made of steel, supporting a maximum weight of 22 lbs (10 kg), this curtain rod is durable and long-lasting. Installation is super simple. Circo comes with brackets, metal screws, plastic screw anchors and assembly instructions.

MODERN DESIGN
With a unique circular ring-shaped finial, this sophisticated curtain rod adds a modern and minimalist touch to your living space

FITS A RANGE OF WINDOWS
An extendable curtain rod to fit a variety of windows, Circo comes in two sizes; 36-72 inches (91 - 183 cm) and 72-144 inches (183 - 365.7 cm); diameter is 1 inch (2.5 cm)

EASY INSTALL
Your Circo Curtain Rod comes complete with all the hardware you need to get set up quickly and easily including brackets, metal screws, drywall anchors and easy to follow step-by-step installation instructions

DURABLE
Made of steel, Circo is a long-lasting curtain rod, supporting a max weight of 22 lbs (10 kg)

Featuring a modern-shaped finial and minimalist design, Fade Knob is a 1" (2.5 cm) diameter adjustable curtain rod. Available in two sizes; 36-72 inches (91 - 183 cm) and 72-144 inches (183 - 366 cm), Fade Knob can fit a variety of window sizes. Made of steel, supporting a maximum weight of 22 lbs (10 kg), this curtain rod is durable and long-lasting. Installation is super simple. Rod comes with brackets, metal screws, plastic screw anchors and assembly instructions.

MODERN DESIGN
With unique, minimalist finials, this sophisticated curtain rod adds a simple, modern touch to your living space

FITS A RANGE OF WINDOWS
An extendable curtain rod to fit a variety of windows, Fade Knob comes in two sizes; 36-72 inches (91 - 183 cm) and 72-144 inches (183 - 365.7 cm); diameter is 1 inch (2.5 cm)

EASY INSTALL
Your Fade Knob Curtain Rod comes complete with all the hardware you need to get set up quickly and easily including brackets, metal screws, drywall anchors and easy to follow step-by-step installation instructions

DURABLE
Made of steel, Fade Knob is a long-lasting curtain rod, supporting a max weight of 22 lbs (10 kg)
______________________________________________________________________________